Battery gauntlets
Gauntlets are the heart of the industrial tubular battery, as they ensure good contact between the Positive Active Material (PAM) and the positive plate spines, better containing any shedding of this material during loading / discharge phases, and allowing for easier production of these plates at the same time. Our gauntlets are particularly suitable for all types of filling (dry vibration, paste and slurry filling).
Tubular plate technology has been in use for years, but it is only thanks to Mecondor that from the 70s introduced the first fabric gauntlet, that lead to technical and production improvements to the battery industry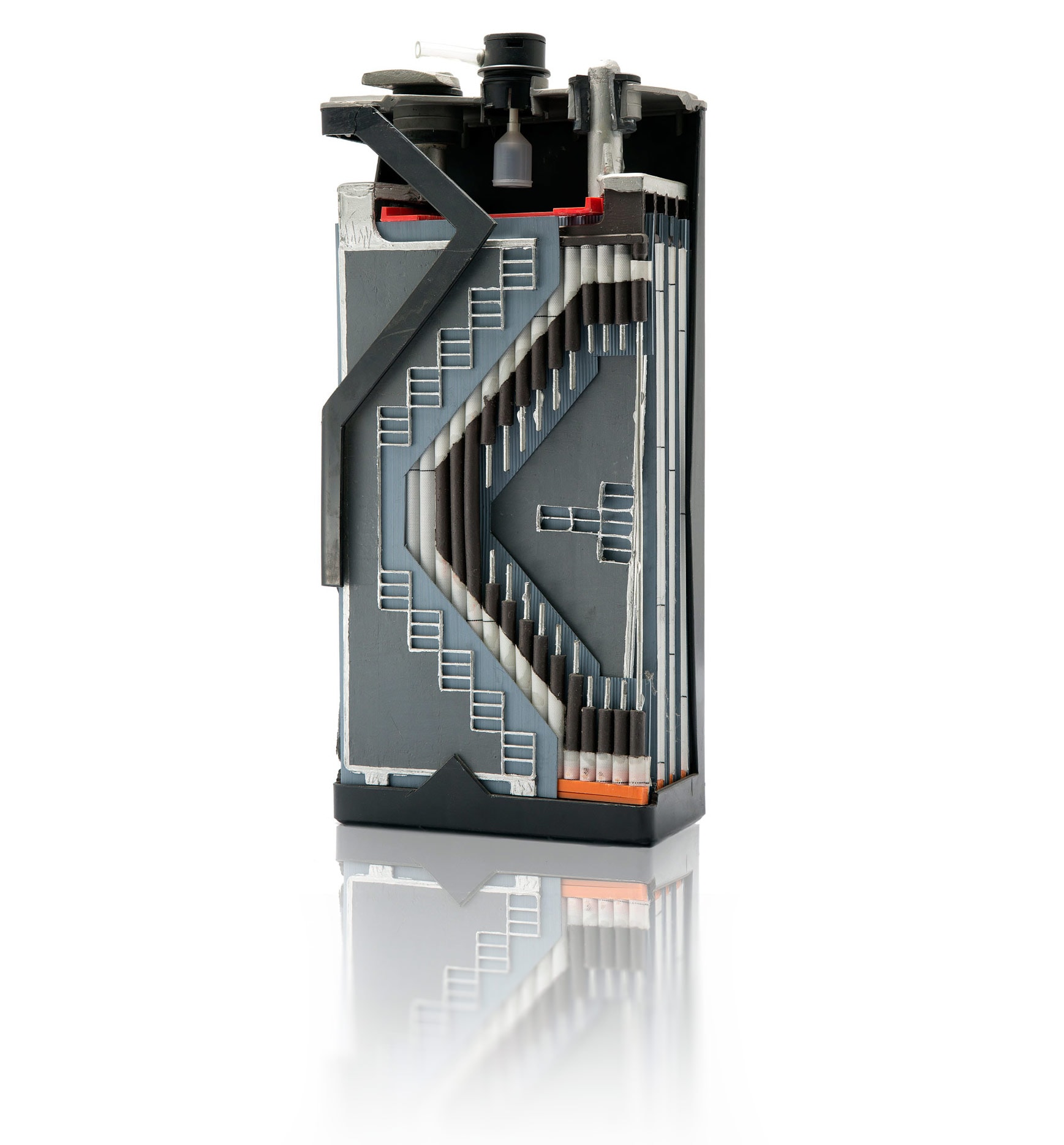 Indeed, Mecondor is the world leader in the production of multi-tube fabric and non-fabric gauntlets. Mecondor has been making gauntlets for over 40 years, and has a global market share of over 70% and is the priority manufacturer of gauntlets for the biggest industrial battery producers. As a leader in innovation, in 2007 Mecondor introduced the latest generation of non-fabric gauntlets and, in collaboration with some important customers, has developed new products for Gel, AGM and Start-Stop batteries.
MECONDOR GAUNTLETS ARE AVAILABLE IN TWO RANGES
Woven Gauntlets
They are made from high quality polyester threads impregnated with a synthetic resin that allows battery usage under extreme working conditions. Woven gauntlets are recommended when the battery must operate in severe conditions and when a high number of cycles is required.

The following are available:
various models according to the type of yarns (high tenacity, spun and multi-filament) and the number of lengthwise/crosswise yarns
different shapes and sizes, with various lateral finishing.
Non Woven Gauntlets
They are made with two layers of 100% non-fabric polyester impregnated with a synthetic resin and sewn together. Then follows the thermo-moulding process that gives it the shape and rigidity required for non-woven gauntlets, ensuring oxidation resistance. The high filtering capacity guarantees minimal leaks of active material. These technical characteristics, together with the low material cost make these gauntlets especially suitable for batteries used for traction and for stationary applications.
THE NEW GENERATION OF NON-WOVEN GAUNTLETS - NWS RANGE
Made with spun lace technology, thanks to the particular production process and the patented design, the best characteristics are guaranteed for positive plates in traction, stand-by and gel batteries. The polyester fibres woven by thousands of very fine water jets give a uniform structure, whereas the impregnation with acrylic resin ensures rigidity and resistance to oxidation.
The NWS range gauntlets give improved uniformity, reduced electrical resistance, extremely fine and uniform porosity, making it the ideal solution for all filling systems.
The 100% off line impregnation guarantees improved control of the resin content and the possibility to create personalised versions.

Both NWS2 standard and NWS4 reinforced versions are available (others on request), in round and square versions, in various sizes and finishes.